The Architecture Studio prides itself on continually pushing the envelope when it comes to sustainable design. Not only can we design for environmental systems like Energy Star but we can also design to meet the stringent demands of the LEED for Homes and Green Building Standard rating systems. We were very proud to be the first firm in the state of Indiana to register and certify a LEED for homes apartment building. To date we have had:
1 LEED for Homes Platinum Level Certified Project
2 LEED for Homes Gold Level Certified Projects
3 LEED for Homes Silver Level Certified Projects
1 LEED for Homes Certified Level Certified Project
12 LEED for Homes Projects currently under construction or awaiting certification
10 completed Energy Star Projects
5 in construction Energy Star Projects
Our services for sustainable design can be as minimal as a one on one consultation or as vast as complete documentation and project management by a LEED Accredited Professional. Whether you are interested in designing from scratch or retrofitting to include energy saving and environmentally friendly features we have the right staff and experience to handle it.
---
Country Trace Apartments
Palmyra, IN
Country Trace is the first new construction LEED for Homes Certified apartment building in the state of Indiana. Green features include environmental site design including saved trees, native landscapes, and rain garden. Other features include Energy Star rated apartments with Energy Star windows, doors, appliances, and HVAC equipment for energy savings. All apartments are equipped with low flow faucets and dual flush toilets to save water, as well as radon mitigation systems and rated filters for indoor air quality.
---
Newbury Pointe Apartments
Edinburgh, IN
Recently finished Newbury Pointe Apartments is a low income housing development for seniors. Features include being Energy Star rated, equipped with Energy Star appliances, windows and doors, low flow devices as well as tankless water heaters.
---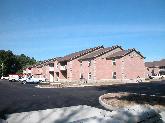 Independence Place Apartments
Linton, IN
Independence Place is a family apartment complex located in Linton Indiana. All units have been sampled and tested to be compliant with Energy Star requirements for energy conservation. All units include Energy Star windows and doors, appliances and heating and cooling equipment to maximize energy and money savings.
---
Spring Town Apartments
Marengo, IN
Spring Town Apartments was a new build and a rehabilitation of an old church into apartments. Each of the 8 newly constructed units meet Energy Star standards, along with Energy Star appliances, window/door, and lighting packages.